Biographical
Name: Christina Hillman
Current job: Assessment and Online Program Librarian
How long have you been at Fisher? 3 years
How Do You Work?
What is your office/workspace like? I work in a cubicle, I have two desks set up: one with my computer, which has two monitors; and one for writing/projects (somehow it's always covered with papers). Also there are lots of postcards of the places loved ones have visited; thank you notes from students; and copies of the library's strategic plan, information literacy instruction plan, and college-wide learning goals.
What is a typical day like for you? I live by my Outlook calendar because no two days are the same. Sometimes I may have a class to teach; others I may have consultations with doctoral students.  I cover hours at the Research Help Desk, and usually there is a meeting or two I will need to attend.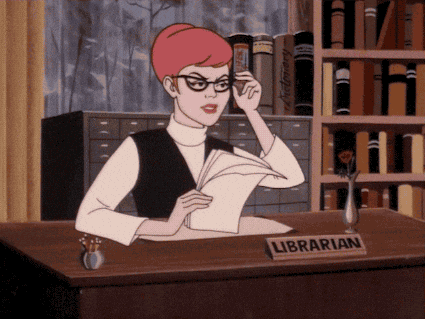 What are you reading right now? I'm re-reading American Gods by Neil Gaiman. I also read a lot of academic articles, most recently focusing on library assessment.
What do you appreciate most about Fisher? How, regardless of who I come into contact with, be it student, faculty, or staff, everyone has been welcoming. Oh, and the food! Lackmann is awesome!!
What do you want the students to know about you or the library? As cheesy as it may seem, the best part of my job is getting to work with students. I love working through research projects with students. It's especially fun  when it ends in the student not only learning something new about library resources, but also when they leave ready to move on to the next steps of their project.
Fun Facts
What is your favorite word? Appreciate — it's a much better way to say thank you.
What is your least favorite word? Moist — it makes my mouth feel gross.
What profession other than your own would you love to attempt? Set Designer — I was part of tech crew in high school and it was so much fun!!
What profession would you never want to attempt? Anything in health (e.g., nursing, doctors) — I do not like bodily fluids. I respect these professionals and everything they do for their patients; they are amazing human beings, and it's a job I know I could never
try.
What superpower do you wish you had? Is it a superpower if I choose apparate? I guess it's the same as teleportation. I think it would be fantastic to be able to travel wherever and whenever without having to brave a plane ride.
What are you most proud of in your career?      You might think it was my first conference proposal acceptance, but it was (or is) when a student tells me they set up a meeting with me because their classmate told them how helpful I was for their research project, and suggested they come see me.
When you aren't at work, what are you likely doing? Well, I just bought my first house….so, trying to finish unpacking and setting the place up has been taking up a bunch of my time. But I also love crafting and DIY projects, so when I have time, I'm usually tinkering with my latest project. Right now it's an upholstered headboard and a set of baby blankets for a friend who just had sweet little girl.